Finally, the time of cons is upon us! And up next is Anime Expo in California! This'll actually be my first time attending and I'm pretty excited and it's my first 4 day con ever! Ah, the fun will be extended (〃▽〃)
Like before, I'll be rooming with some people, however, the hotel is about a mile away so I have to think of what I'm going to do about transportation late at night. I know our roommate offered to give us rides (because they're driving) but I'm not sure if that'll be an inconvenience.
Anyways, Anime Expo will be taking place on July 2nd to the 5th, however, because I like to go out I'll actually be staying in California until the 7th! This gives me two extra days to explore and already on my list of to-do is Kinokuniya shopping! I went to one last year during my stay for Yaoi-con and wow, the stores out there are way bigger than the one here in Arlington Heights. As for other things I'll be doing after the con…I've yet to decide. In fact, I should be looking up some things to do! I'm debating going to an art museum on one of the days but I have to check what's around (I tried to go while in San Francisco one time only to find out most museums are closed Mondays and I had to leave Monday night, bummer)…and consider that my brother will be tagging along (˶′◡‵˶)
Con-wise, I just went through the schedule and marked off what I'd like to attend! Most of what I picked out included industry panels, cosplay panels, manga panels, and a few guest panels.
Here are some panels I'll (hopefully) be attending:
And some that I'm totally looking forward to!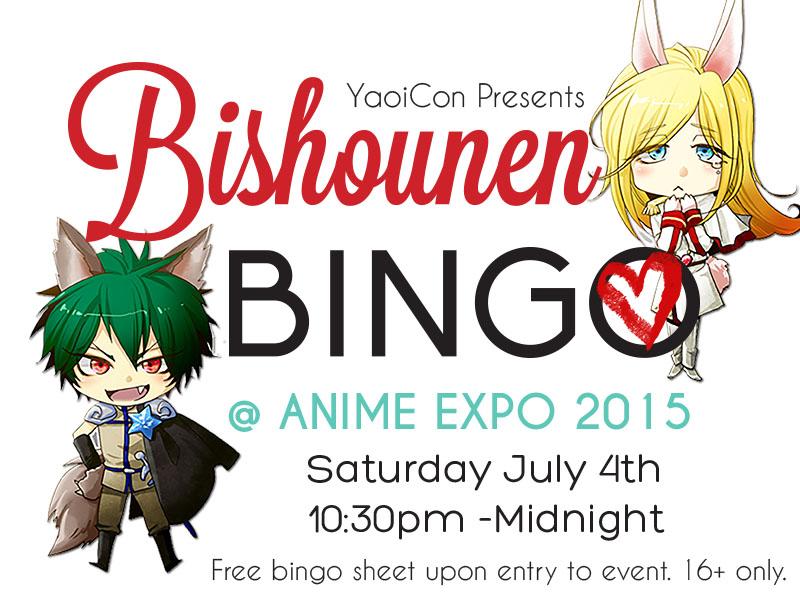 Yaoi Bingo with Yaoi-con! *__*
It has yaoi in it, I'm totally going, not to mention they're going to have some Bishies! I also have to comment that this was the only yaoi-related panel I could find in the schedule and that made me extremely sad. I can usually find at least 2 panels dedicated to yaoi at other cons so seeing only one here was pretty disappointing…(except that also not because I know Yaoi-con is going to make it awesome, even as a 16+ event)!
HappiLeeErin Youtube Panel

Should check out her reviews 😀 oh and she also does manga discussions with three others (regulars and a guest I believe)! They're pretty interesting to listen to (if a bit on the long side). I also just saw one of her videos on a Kaworu Magazine she got and there was fangirling from her and me >///< I wouldn't say I'm a huge fan but I do like how enthusiastic she is!
Dealers' and Artists' Hall/Alley

I highly doubt my wallet is ready for this awesomeness but alas I'm ready haha I've seen pictures of how huge this is, a manga hunting I shall go! As for the artist alley, Zzyzzyy is going to be there! Oh, I love her work so much that I splurged at her booth at ACEN (though she wasn't there, her boyfriend was selling for her). If you haven't checked out her art, you must!! It's amazing! Other than that I don't really know any of the other artists by name…I was hoping Hamlet_Machine would be there since it's a big con but I don't see her on the list
Now, as you can see there's not much in this 'excited' group because I don't know what I should be looking forward to…if anyone is an Anime Expo regular and you recommend I should go to something, please recommend away!
As for ticketed events, I'm probably not going to them (Masquerade, Butler Cafe, Maid Cafe, Fate/Stay Night [UBW], etc) but if I do end up changing my mind I might check out the Masquerade (˶′◡‵˶)
There'll also be some concerts but I don't usually go to those so I probably won't go to them here either (even though I kind of really want to check out Wagakkiband because I really like their song Senbonzakura!)
---
Enjoy my content? Want to support me? Feel free to follow me on social media (FB, Twitter), like this post, share it, and/or leave some comments so I know I'm not just screaming into the void! You can also support me by buying me a coffee ^^